Our Village Sketches Essayist
Mary Russell Mitford, (born Dec. 16, 1787, Alresford, Hampshire, Eng.—died Jan. 10, 1855, Swallowfield, near Reading), dramatist, poet, and essayist, chiefly remembered for her prose sketches of English village life.
She was the only daughter of George Mitford, a dashing, irresponsible character whose extravagance compelled the family, in 1820, to leave their house in Reading (built when Mary, at the age of 10, won £20,000 in a lottery) for a labourer's cottage in the nearby village of Three Mile Cross. Thereafter, until his death in 1842, his daughter struggled to provide for him and to pay his gambling debts out of her literary earnings.
In 1810 she published Miscellaneous Poems, which was followed by five more volumes of verse, including Watlington Hill (1812) and Dramatic Scenes, Sonnets, and Other Poems (1827). Her narrative poem Christina (1811) was revised by Samuel Taylor Coleridge. She then turned to the theatre, with some success, most notably in the blank-verse tragedies Julian (1823) and Rienzi, the latter of which had 34 performances at London's Drury Lane in 1828.
Her reputation, however, rests on the sketches, started in The Ladies Magazine (1819), that fill the five volumes of Our Village (1824–32). Based on her observation of life in and around Three Mile Cross, they catch the pleasant atmosphere of the English countryside and the quaintness of village characters. She published a further volume of sketches, Belford Regis, in 1835 and her Recollections of a Literary Life in 1852. Her work helped to establish the format of the realistic domestic novel of provincial life.
Residencies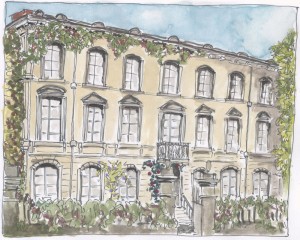 There are two types of residency at the Hôtel Sainte Valière: the artist in residence program, a longer residency for one to six weeks in May, June, September and October, and a musicians in residence program, a shorter residency available throughout the summer months.
Artists in residence
Hôtel Sainte Valière is available in May, June, September and October at a low price as an artist residency. We invite artists of various disciplines to spend some time away from your busy lives, in a remarkable setting, peaceful and conducive to work. We are currently accepting applications for September and October 2017, and for 2018.
The house offers its residents large luminous rooms with dedicated workspaces, and an atmosphere outside of time. There are bicycles for your use, as well as a Peugeot 205 automatic car, and you have the option of being fully catered for during your stay. No outcomes are required, but we will happily organise events (readings /exhibitions/ concerts) to showcase your work.
More on artists in residence
Musicians in residence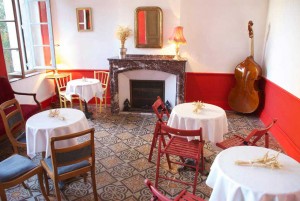 Our musicians in residence program is an invitation to touring musicians to stop by and play at the Hôtel Sainte Valière. We offer, depending on the availability of rooms and the size of your band, up to three nights free accommodation in return for one live performance.
More on musicians in residence
Testimonials
Robert Dessaix – novelist, essayist, journalist – Australia
"Sainte Valière is just the right setting for hatching or honing a book, a play, a poetry collection: spacious rooms with a view, tranquillity, history, with inviting countryside, ancient cities and small villages to explore between bursts of inspiration.  It's France.  It's almost Spain.  It's perfect."
Robert Dessaix visited Sainte Valière as a guest in September 2016.
Residencies 2017
Lizzy Sampson- installation artist- Australia – September 2017

"I spent a little under two weeks at Hotel Sainte Valiere to undertake a self-directed arts residency in September 2017. This was my first residency since becoming a parent, and Eloise was so accomodating of my family – arranging everything we needed for our stay. The food prepared by Eloise and Sophie is nothing short of magnificent – and the additional picnics by the river were always delightful. Having a car available to explore the surrounding villages, rivers and mountains was amazingly helpful and made being autonomous during our stay very easy. Sainte Valiere provided a very different sense of place, space and time and each hour of every day seemed to stretch – so that I really achieved a lot of thinking, making, exploring and doing in just 2 weeks. I feel like I just began to scratch the surface of life in a small village and would love to return to explore this further. A very accomodating, comfortable, creative and welcoming place to live and work. Merci Beaucoup."
http://www.lizzysampson.com.au/residency-blog-hotel-sainte-valiere-france/
Antoine Giorgini- film maker- France – September 2017
Jens-Martin Eriksen – author, essayist – Denmark – September 2017

"L'Hôtel Sainte Valière is a really great place for everyone who wants peace and quiet to work on their manuscripts. Wonderful spacious rooms in and old doctors house in a small village in the South of France, nice food and homely atmosphere, great wines and countryside to be explored close to Canal du Midi and historical city of Minerve. "
Ida Rödén – illustrator, sculptor – Sweden – September 2017

"When you realize you can do it all – when your kids can be without you a full week, when you manage to convince an art foundation to financially support your adventures, and when you have the best husband that pushes you to follow just that dream – the one of doing it all. Well, that's when you wake up in a spacious room where the sunlight is peeking through big windows revealing the narrow streets of Sainte-Valière. This Artist Residency was just what I needed – fantastic home-cooked food, solitude, car trips, stimulating dinner conversations with the hostesses and the writer in residence (Jens-Martin Eriksen), and the occasional meeting with locals to see what they are up to (to learn from the experts about the fate of the cathars). And, not to forget, time to make art – in this case thorny beetles hidden in thorny plants coloured with the juice from berries and greenery collected during my daily walks outside the village."
http://www.idaroden.com/
Rachel Lang- film maker- France – July 2017

« Vast spaces for reverie with superb dimensions befitting Man who seeks. Difficult to match with words the sensation Sainte Valière leaves you with. So instead we will return, with Fabien, and shoot a short film in the style of Rohmer. »
Fabien Gorgeart- film maker- France – July 2017

"I left the residency with a terrible desire to return, as well as the pride of belonging now a little to the beautiful story Eloise is inventing between the walls, vibrant with inspiration, of the magnificent Hotel Sainte Valiere. Rarely have I worked as well as I worked there. I have the feeling that there I could give the necessary push to lauch a new project, forever associated with the place, Eloise, and my director friend Rachel with whom we chatted beneath plane trees drinking delicious rosé!"
Jeannine Cook – silverpoint artist – Majorca – May / June 2017

"Hôtel Sainte Valière – from Winegrower's "Folly" to Artists' Residence
Light footsteps flying down the spacious stairway, sunlight flooding through the big windows, laughter and a welcome soon sealed with a glass of wine: my stay at Hôtel Sainte Valière began deliciously.
I soon learned that this gracious house, one of the main homes built in this small hilltop village during the 19th century wealthy heyday of wine culture in the Languedoc Roussillon area of southern France, was originally called a "winegrower's folly". The Cayla family knew how to make a home of gracious proportions, and today's guests at Eloise Caleo's Artist Residency are the lucky beneficiaries (…)
My two-week residency flashed past but it was the prefect place to get down to working really hard. I wanted to complete two big silverpoint drawings for an upcoming exhibition and this was the ideal situation simply to push through and finish them in dogged fashion. My quiet and privacy were respected delightfully.
So many enticing trips, nonetheless beckoned… so many attractions to delight, and all close enough to hand to Sainte Valière that an artist can slip off for a while to change gears from creating to celebrating life in France."
To read Jeannine's full testimonial click here
Macdonald Jones – photo, sculpture, installation artist – USA – June 2017

"Hotel Sainte Valiere is a wonderfully calm & charming residency. There are lovely trails for walking or biking and many beautiful sights and neighboring towns to see and inspire you. The work space and large table by the window are perfect, and the food is excellent!"
Miranda Mills – documentary maker, performer – Australia – June 2017



"Hôtel SainteValière is a large welcoming unique artists residence in a small village. Here, I had the opportunity to both enjoy quintessential French country life and have time and space to focus on my particular oeuvre and groove! The environment is quiet and the rooms are elegant spacious and relaxed. Chez Eloise I was encouraged to take time for both reflection upon my own work and recreation. It is close to the Canal du Midi and walking, bike riding or exploring by car in small day trips is a delight.
I visited Minerve a medieval town on the edge of the Black mountain and swam in a crystal clean stream, cooled down in the ocean at the picture perfect ancient seaside fort of Collioure and passed through small villages, vineyards and olive groves that embody the essence of the French experience. I felt nourished by all this and my creativity began to flow again after leaving a very cold Tasmanian winter as I opened out in the beauty of a southern French summer away from the crowds."
Raphael Pintart – journalist and screenwriter- France – June 2017

"I spent a week at Hotel Sainte-Valière and I have rarely been so productive. Was it the calm and beauty of the space? Was it the varied song of birds and of wind in the trees? Or the duck magret prepared by Eloise ? Or could it have been the freshness of the river, the shade of the olive trees, the lines of vines? All of this, undoubtedly. It was a pleasure to rise early, have coffee in the kitchen, return to my big desk and let the words come. To lunch on a sandwich on a corner of the table or to take the time to settle in at the restaurant by the canal at midday. And to reunite, come evening, with my hosts on the terrace to share our stories.
I'll be back!"
Residencies 2016
Stéphanie Jeannet – illustrator – Switzerland – May & September 2016

"The Hôtel Sainte Valière for me is a place of which I am still dreaming, a house where warmth and beauty are shared, a place full of space and horizons to think, to create, to tell oneself stories and to carry those stories further."
http://www.stephaniejeannet.com/
Sandra Ivany – photojournalist – May 2016

"My time spent at Saint Valiere was like stepping into another most graceful period where time slowed and one's surroundings were lovely and soft.  There was an atmosphere of a creative salon where truly alive and creative people shared with each other deep conversations of dreams, experiences and ideas.  The village, the countryside, the light and even the air are unforgettable. Eloise – many thanks for your kindness and your hospitality and for your support in helping me achieve my creative project – It was truly an honor to get to know you."
http://www.sandraivany.com/
Antoine Giorgini – screenwriter – France– September 2016
"My time in Sainte Valière was very, very good for my inspiration. You can think clearly there, and the almost religious calm pushes you to be creative.If you want to have a break from your work, there are plenty of places to visit, to eat and drink, the surroundings are absolutely magnificent. A charming welcome, the lady of the house is as pleasant as can be, present but not too present, always up for passionate discussions by the fireplace. I came in early September, and came back at the end of the month as I found that one week's work in Sainte Valière was worth two months work at home.L'Hôtel Sainte Valière allowed me unparalleled creative energy and I am counting on returning as soon as I am able."
Helga Griffiths – installation artist – Germany – September 2016
"Hotel Sainte Valière is the ideal place to work quietly.  I enjoyed my daily  routine of walking and thinking and could get lots of new ideas on which I started  working. I felt very much at home and did enjoy my spacious beautiful room as well as the library which is offering an incredible view over the rooftops of the village. I admire Eloise's passion and incredible energy that she puts into making this residency a success"
http://www.helgagriffiths.de/
Frans Peter Valbjørn Knudsen – textile artist – Denmark – September 2016
"A fantastic place, fantastic people. Food is excellent. Peaceful and quiet and plenty of room for thinking and working. I will definitely come back if possible. There is a place in my heart called Hotel Sainte Valière"
One sunny Saturday morning, Sainte Valiere was intrigued to see this surprise installation by Frans Peter…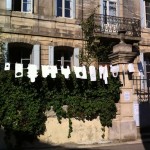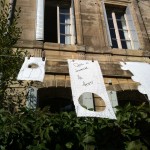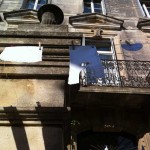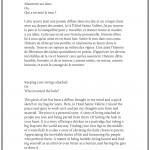 "This piece of art has been a diffuse thought in my mind and a quick sketch in my bag for years. Here, in Hotel Sainte Valière, I found the peace and quiet to work on it and put my thoughts into form and material. The piece is a personal story…"
Margie Ulbrick – author – Melbourne – September 2016
"I was fortunate enough to spend one month at Sainte Valiere with Eloise, Cleo and Sophie. They are a beautiful and interesting family and very supportive of all things creative. I loved meeting other residents and sharing some of our experiences of the creative process. The landscape of this beautiful area of Southern France (surrounded by vineyards) is inspiring and to get fully immersed in its climate, colour and light was a treat. There are many lovely walks and it is possible to cycle along the Midi canal and see some of the neighbouring villages. I loved working upstairs in the library where I looked across rooftops and listened to birds of all descriptions as well as the tractors on the fields harvesting the grapes and nearby horses. The views were so picturesque and completely inspirational for my writing. The house itself is spacious and well set up with each room having it's own ensuite and lovely windows opening out to tree tops and the local village. Perhaps best of all, was the energy and space for the creative juices to flow, the time to work uninterrupted and to have meals all prepared so that we could merely show up in the evenings and join each other for some socialising, friendly banter, and delicious French food and wine. A lovely courtyard was the setting for our evenings when weather was warm and then a beautiful open fire inside the dining room when the weather was cooler. I'm so grateful for the experience of Hotel Sainte Valiere."
2015 Residents
Vardos – July 2015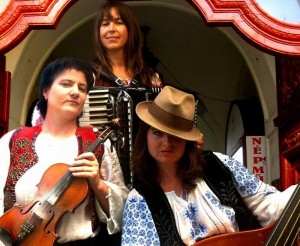 "In 2015 Vardos were invited to undertake a small residency at Hotel Sainte Valiere in France. Being in Sainte Valiere allowed us the chance to absorb and practice the music we had just been studying  in Eastern Europe, culminating in us performing at a very successful opening night to which the village was invited. In a beautiful calm and quiet mansion with its own lift, ensuites for every room, just a few dozen metres away from the local shop providing fresh fruit and croissants, we were also walking distance from vineyards and inspiring Provencal landscapes. Crystal clear swimming ponds are not far away, and larger towns such as Carcassonne and Narbonne are also close by. As a writer I was inspired by the history of the house and its occupants, to write the short story, The Cave of Dr Cayla, and also to make some sketches. It was valuable to meet and find out more about the locals some of whom had insights into the history of the house and its occupants which informed upon my writing."
Sofia Chapman of Vardos
http://vardos.com.au/
Sofia's story The Cave of Dr Cayla appeared in Gargouille Literary Journal and can be found here:
http://www.gargouille.com.au/store/
The Sugar Fed Leopards – September 2015
"Eloise and Cleo greeted us after a long scenic drive to the small South Western town of Sainte Valière. We felt welcomed as we sat in the quiet courtyard and were seized by the simple romance of life there. Water, wine, cheese and dinner to muse over, Dave chopping some garlic, Carrie chasing Cleo and the rest beginning to take bags up the big staircase and settle in. The kitchen is expansive and inviting, I just wanted to cook, often and for many people. It would be the place where we shared the rich flavours of the region and talked about which disco music we really liked.
The house is 3 stories of bright rooms with luxuriously big bathrooms, each room has speaks of an ideal lifestyle with a view that is completely transporting. Throw open the windows to let a breeze sweep aside the thin curtains and you can feel the village is so close but it is quiet and still in it's worn stone. We were able to spend the days relaxing in the informal atmosphere, reading for long hours, writing a handful of melodies, including the bands favorite hit 'Golden Apricots, castles in the sky' and visiting nearby towns for long lunches. We watched tourists move down the canal in different shaped vessels with different holiday agendas. We strolled by an orchard and snoozed under some big maple trees…
…The house exuded all the glory and mystery of another time. The warm colours of the region and the superb light linger on and I recommend a stay at Sainte Valière to anyone, whatever reason you can find to become familiar with this part of the world, would be good. Eloise is accommodating and hospitable and it would be a worthy exchange to share some of this style of life with her wonderful family. One day I will stay a year and write a novel."
Steph Brett of the Sugar Fed Leopards
To read Steph's full testimonial click here
http://www.sugarfedleopards.com/